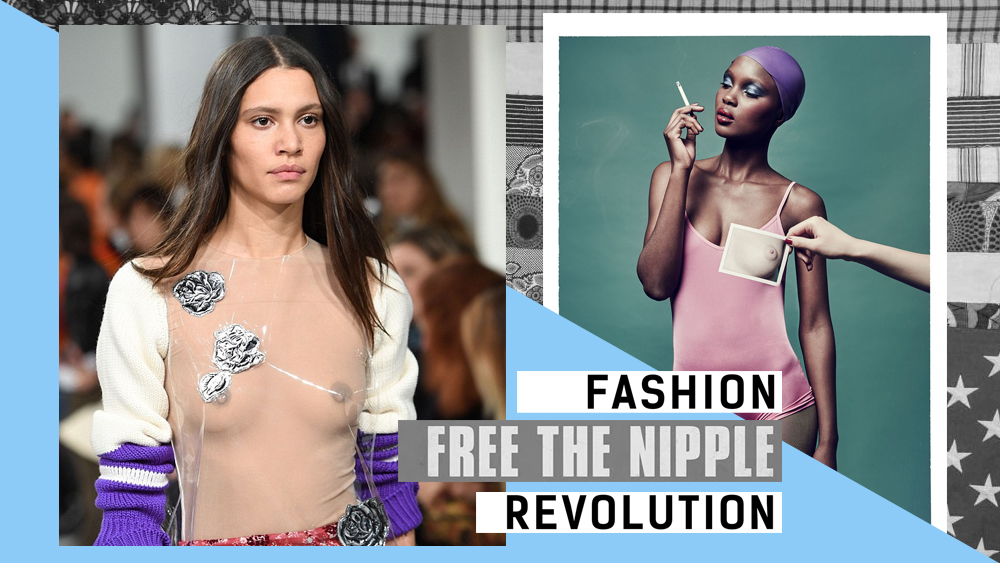 by @PamelaAlva
Las iniciativas feministas que existen en las redes sociales son capaces de hacer que más personas tomen conciencia y pongan en marcha el cambio. Esto es lo que la activista estadounidense Lina Esco ha logrado con el movimiento igualitario Free The Nipple, que se concentra en evidenciar la doble moral que existe respecto al cuerpo femenino, fomentar el empoderamiento, la igualdad y la libertad con el propósito de crear una sociedad más equitativa.
El origen de Free the Nipple se encuentra en la cinta independiente dirigida por Esco en 2012, en la que se critica la doble moral de la sociedad estadounidense, donde la violencia se ve como algo natural mientras que la aparición de un pezón en cine o televisión organiza un gran revuelo. El largometraje, basado en una historia real, se centra alrededor de un grupo de jóvenes mujeres apasionadas que toman las calles de Nueva York para protestar en contra de los tabúes legales y culturales en cuanto a los pechos femeninos. La cinta no pudo ser publicada en ese mismo año, lo que incitó a Esco a empezar el movimiento en diciembre del 2013.
El movimiento ganó multitud de seguidores en redes sociales, donde el hashtag #FreeTheNipple fue usado durante semanas. En los últimos días, el debate se ha reavivado gracias al apoyo de famosas y marcas que se han sumado a la causa feminista, quienes tomando los senos femeninos como inspiración buscan cambiar la percepción social que se tiene sobre ellos.
Lo interesante en este caso es que el argumento de la cinta haya cumplido su misión, convirtiéndose en la base sobre la que se construyó un movimiento virtual que continúa más allá del mensaje original, acercando nuevos adeptos a esta eterna lucha. Con el auge de Internet y las redes sociales es posible que más mujeres se involucren en el feminismo, hoy más que nunca existe la posibilidad de que las voces de más mujeres sean escuchadas.
No faltan críticas hacia este caso, pero sin movimientos como este, que promueven la concientización y ofrecen a las personas la oportunidad de involucrarse en el debate, haciendo llegar el mensaje a jóvenes que no estaban interesadas o desconocían la discusión sobre la igualdad de género, las mujeres seguirán sin tener consciencia del trabajo que aún queda por hacer.
Necesitamos normalizar con urgencia la sexualidad y la desnudez femenina, no sólo para poner fin a la discriminación, sino también para proteger a las mujeres frente a la violencia. Liberar nuestros pezones no parece ser un mal lugar para comenzar.
La voz de las mujeres, está más presente que nunca en diversas áreas, es por ello que, alineados a los cambios sociales, la Universidad Jannette Klein creó Fashion Space, un ciclo de conferencias, que este año han sido dedicadas a darle espacio y difusión a todas aquellas mujeres que han hecho cambios sustanciales dentro de la industria de la moda. Women in Fashion celebra y apoya la participación de la mujer en todas las industrias.
https://jk.edu.mx/wp-content/uploads/2017/08/Universidad_Jannette_Klein_Blogjk_Free_the_nipple_movimiento_de_liberación_femenina_PORTADA.jpg
563
1000
wpadmin
https://jk.edu.mx/wp-content/uploads/2022/07/universidad_jannette_klein_mainn_logo.png
wpadmin
2017-08-23 11:00:51
2017-08-22 18:15:38
Free the Nipple: Movimiento de liberación femenina